The Troublesome Reign of King John was first published in 1591 by Sampson Clarke, with no attribution of authorship.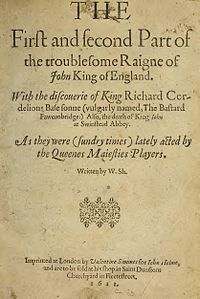 The title page stated it was played by Queen Elizabeth's Men. But in 1611 a new edition was published by John Helme with the addition 'Written by W. Sh'.  In 1622, Thomas Dewes published a further edition, expanding the attribution to 'W. Shakespeare'.  A year later, the First Folio included a different King John, The Life and Death of King John, of which Troublesome Reign is acknowledged as a fore-runner and a source.  Writers attributed with the authorship of Troublesome Reign include Christopher Marlowe, George Peele, Robert Greene and Thomas Lodge. Though it belonged to a rival company, it is possible that Troublesome Reign was bought by William Shakespeare and sold to John Helme as being his. Bearing in mind that this play dated from the early 1590s or even 1580s, we should recall that the 'Poet-Ape' of Jonson's poem began his career in play-broking by buying 'the reversion of old plays' i.e. plays that were loaned out to another company.  Thus the association with a different company does not rule out Shakespeare's involvement in this transaction.
The 'W. Sh' at least denotes that the attributed author is neither Wentworth Smith nor William Sly. It is possible that John Helme and Thomas Dewes were misled by the title 'King John' appearing in a list of plays that Francis Meres attributed to Shakespeare in his Palladis Tamia (1598), and came to believe that this was the same play. But then again, in some sense it was, being a forerunner of Shakespeare's Life and Death of King John just as The Taming of A Shrew (author unknown) was a forerunner of Shakespeare's The Taming of The Shrew.
---
Click Here to Subscribe and we'll notify you about new content.